A HUGE shout-out from the Allegan Alternative High School Staff to all of you amazing people who attended the Michigan Alternative Education Conference this year!  Spending two days sharing in our passions with individuals who get it – who understand the same struggles, persevere towards the same goals, and provide the same relentless love – continues to inspire us with new ideas, and invigorate our spirit as an alternative high school.  Thank you all.
As promised by the Mindfulness Boys, you'll find images of the sticky note brainstorm wall below.  We hope you find them useful as you begin to subtly implement mindfulness into different parts of your school day.  Note:  A typed list of the content on the sticky notes is also provided to save your eyes (and your time).
And to close, here are some Tuesday Tips:
Live in the moment.
Be flexible.
Be kind to yourself.
Sending nothing but love <3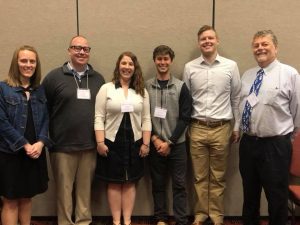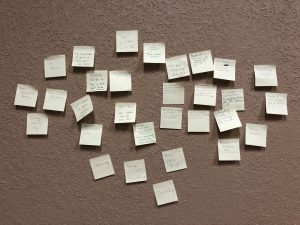 Sticky Note Brainstorm:  Ideas on When/How to Use Mindfulness in the Classroom
Techniques to Refocus
Monthly Activity Day
Class Transitions
Before Standardized Testing
Post Visual Mindfulness Reminders
Transition after Break/Lunch
Use Visualization for a "Field Trip" in History Class
Meditation Station to "Take a Minute"
Dance Party/Music Break
Sensory Focused Activity
Stress Break
Deep Ujjayi Breath
Stretching
Make Rain Sticks
Chair Yoga and Breathing
Bellringer/Warmup Daily Goal
Adding Music
Use Visualization to "See" Academic Success
Can help students feel more in control of situation/lives/emotions
Breathing techniques can help students focus for the day.
Mindfulness in a Class Exit Slip
Keep Breathing Slide Up
Purposeful Mindfulness Walks
Use Visualizations to Energize
Weekly Goal Wall
Quiet Bringing Back to the Classroom in 5..4…3..2..1..
Today's Feelings on Sticky Notes
Stretch/Meditation with Anxious Students
Mindfulness as Non-Toxic Masculinity
Taking Care of the Base of Maslow's Hierarchy
Great for Circles
I want to model it myself before leading classroom exercises.
Prior to Conflict Mediation
Check In Process as Students Enter
Active Mindfulness for Sleepy Students
Guided Visualization for Students Reentering Class
Breathing to Deescalate
Brain Breaks as Parts of Projects
Refocus Area
Helps Keep Staff Balanced
Use to Decrease Bus Anxiety
Life Skills Class
Guided Visualization or Mindfulness Enrichment Groups
How are you feeling today?
Ask Students How THEY want to achieve mindfulness.
Written by Aaron Rogers, Dean of Students