The presidential election of 2016 will forever be remembered for its divisive effects, both leading up to the election and after the results were announced.  This divisive feeling didn't only exist nationwide, but also in our school, where many students struggled to express their feelings about the political landscape and we as teachers struggled to balance personal opinions with showing respect for all viewpoints.
The week after the election I had a unique opportunity to volunteer at International Aid, Inc., a relief ministry in Spring Lake, Michigan.  Alongside the multitude of great things that International Aid does, one big mission of theirs is the packing of hygiene kits that get sent to areas in need of basic hygiene supplies due to poverty or natural disaster.  To learn more about their efforts, please take a moment to visit http://www.internationalaid.org 
One crazy thing about being an educator is that the gears in a teacher's brain are always turning and trying to think of ways to bring unique experiences to the students they serve.  So, even though I was at International Aid with a group of elementary school students from my church, I could not stop thinking, dreaming, and asking millions of questions about the possibility of bringing the students of AAHS there for a similar experience.  In the midst of the divisive residue the election had left, this seemed like a perfect way to spread the love.
Not only did I chat with the staff members in Spring Lake about bringing students there, but I also planted a seed in Laura's head about the possibility that had presented itself.  A conversation like this always starts with a "Wouldn't it be cool if…", and sometimes the conversation ends there.  A thought, an idea, but nothing to grab onto and run with.  This project was different, though.  There was something powerful to it.
As we further considered the idea, there were many questions to answer:  Is the experience worth the cost?  Can we afford a day away from school?  Can we make this work logistically?  With staff support, we went ahead with making plans, securing not only ideal dates with International Aid but also back-up dates in the event of a snow day.  We are grateful to the staff at International Aid for being flexible, bringing their staff in during the day to meet our needs and running an incredible kit packing session – something they typically only do in the evenings.
On February 28, with plans finalized and permission slips signed, we boarded the bus and headed to Spring Lake to pack hygiene kits for Native American reservations out west.  Students filtered through their doors in their various hodge-podge outfits where they found a table of colorful "I Am.." shirts awaiting them.  Students selected their own color, changed into their new attire, and assembled together to hear today's game plan.  
As a staff, we knew we had a great group of students who thrived in situations where they have the chance to help others, but the effort our students displayed on this trip was astounding even to us.  Our students, broken into teams and placed at tables, packed plastic bags with hygiene products faster than any group International Aid has ever hosted.  Combs, shampoo bottles, wash cloths, and toothpaste whizzed down each line in a blur as students balanced hard work with laughter.  And while their work was amazing in itself, what was even more amazing was the teamwork our students displayed, the camaraderie each group developed as they worked toward a common goal, and the pride each student took in the work they were completing.  Students were making a positive impact, and they knew it.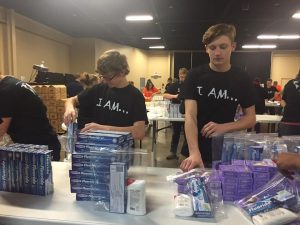 After packing a record 3,600 hygiene kits, we decided to let our students in on a little secret:  we would be making a pitstop to Golden Corral on our way home.  To turn students loose in an all you can eat buffet and say "Eat!" is something we, as a staff, have long dreamed of doing.  We decided that helping the world was as good of a reason as any to bring our dream to life.  Upon completion of our kit packing, Laura announced to the students our plan for lunch, and the place went absolutely nuts.  One teacher compared our students' reaction to a college basketball team learning they had made it into the March Madness tournament.  Truly unforgettable.
It was the perfect ending to a perfect day.  Watching our students, the ones we are so lucky to love and serve each day, take the time to do the same for others was a reminder that maybe, just maybe, we aren't so divided after all.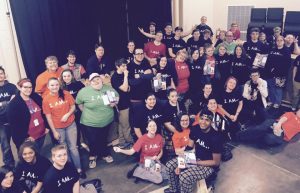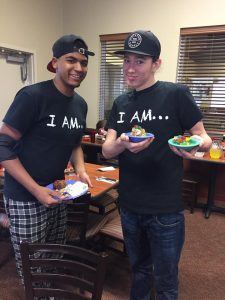 Written by Libby Geurink, Math Teacher