For the past three years, Allegan Alternative High School has competed in The Alternative Education Quiz Bowl.  This academic competition really brings out the best in our students.  Not only are they flexing their brains, but they are engaging in collaboration, showing good sportsmanship and having fun.  
Teams throughout southwest Michigan including Crossroads Academy, Central High School, and The Spring Lake Alternative Education program competed against Allegan Alternative High School this year.  The event was a huge success.  
The privilege of hosting the tournament goes to the winner of the previous year's tournament.  Having won the Quiz Bowl the two previous years, AAHS hosted the Quiz Bowl last year and again this year. Organizing the tournament is a labor of love, and AAHS was fortunate to have some amazing volunteers to help the tournaments run smoothly.  
Quiz Bowl readers this year included Aaron Rogers (AAHS Dean of Students), Rob Patin (District Technology Coordinator), Michael Kiella (President of the Allegan District Library Board of Directors), and Mary Kasprzyk (Vice President of the APS Board of Education).  Quiz Bowl readers did an outstanding job of delivering wordy questions such as, " This Mesoamerican god's name in Nahuatl means "feathered serpent," and he was said to be responsible for the wind and wisdom. His heart was said to be the morning star, and he had brought corn to mankind. He created the fifth world of mankind. His twin brother, Xolotl, was known as the god of lightning and death. Name this deity for whom conquistador Hernan Cortez was supposedly mistaken by the Aztecs."   AAHS is thankful for their valuable time, effort and entertaining deliveries. 
AAHS would also like to think Karen Cochran for helping with logistics.  She is such a valuable part of our program even though she has moved on to a different position outside of our school this year.  Karen will always be an Eagle.
The AAHS Quiz Bowl Squad consisted of Cyan Katje, Breanna Stewart, Mason Jilek, John Slade, Ethan Slade, and Tyler Davis.  The team performed incredibly well, missing first place by just 2 points, earning second place just behind Crossroads Academy. While they did not come in 1st place, their sportsmanship, intellectual efforts and teamwork were a joy to watch.  It was great to see students from other alternative education programs performing so well.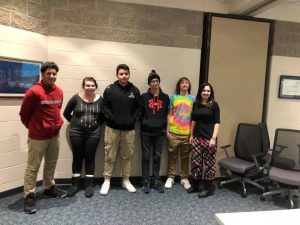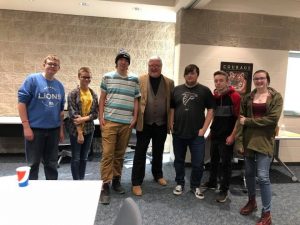 The day ended with pizza, laughter, a trophy presentation and inspirational words for the students from Michael Kiella.  Michael noticed the encouragement and collaboration that was happening throughout the tournament and reminded the students that these skills are important ingredients for a healthy school and society.  
The students look forward to traveling next year to Crossroads, in hopes of bringing the traveling trophy back to Allegan!
Written by Jeff Patterson, English Instructor and Quiz Bowl Coach