Humans are creatures of habit.  Much of what we do and how we do it is simply out of routine and tradition that feels almost automatic to our brains and bodies.  For us humans who teach, forming habits in the classroom can certainly be helpful, but when left unattended to, can really hurt student learning.
While habits help guide us through each school day, they can also create a sense of comfort in teaching practices that aren't always beneficial.  When we are doing something habitual, we tend to shift into autopilot, becoming less engaged in the task at hand.  Sure, this might free up our mind for other matters, but at the cost of becoming stagnant and forgetting about a crucial component of education:  intention.
Therein lies the biggest takeaway from our recent Adaptive Schools Training.  As an entire staff, we spent four full days reflecting on our current practices and learning a multitude of new philosophies and strategies to help our students grow.  In aiming to "develop the collective identity and capacity of organization members," we took some intentional time to work ON our school; not just IN it.
For us, that meant being vulnerable.  It meant examining our personal and professional practices, values, and mindsets that have formed into habits over the years, and to be honest with ourselves about them.  As a team, we embraced pieces of our teaching that we can build on, and created plans to grow the pieces that we wanted to be better.  
Libby Geurink, Math Instructor:  "A big takeaway for me were the three focusing questions:  Who are we?  Why are we doing this?  Why are we doing this, this way?  As we reimagine what school can look like for our students with an emphasis on collaboration and soft skills, revisiting these three questions will help us stay focused on the changes that are important and necessary in our building."  
Jeff Patterson, English Instructor:  "Sometimes it's just being more intentional about your volume and your body language.  Small things like that can have a big impact on being open and approachable to students."
Kyle Shack, Social Studies Instructor:  "I'm already using strategies like teaching zones, which helps students identify when they should be giving their attention for instruction, and coding text, which is boosting student confidence in identifying and sharing out key details."
Mark Horn, Science Instructor:  "You know, some of these things can feel uncomfortable because they're new, but they really are working.  Not only are students paying more attention, they are better able to focus because my teaching goals are so much clearer."
Laura Feffer, Principal:  "Adaptive Schools has made me a better leader.  These four days allowed me to reflect on my leadership and be vulnerable.  It reminded me that meeting rooms are my classroom and my staff are my students.  I need to continually model for staff what I expect to see from them with students.  I need to hold myself to that same standard."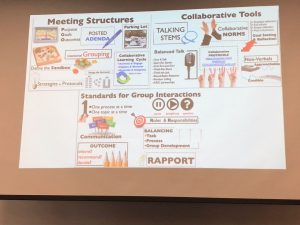 Through the four days we spent together, we dissected the ins and outs of our school culture, digging deep down to the root reasons for WHY we do the things we do.  What are we hoping to achieve?  What is our desired outcome?  These questions are so important to ask each other as we continue to move forward.
With Adaptive Schools now in our toolkit, our staff intends on reimagining what learning, teaching, and leading should look like in our building.  We intend on progressing with purpose, and we intend on leaving our expired educational habits behind.  
Most of all, we intend on making this journey together.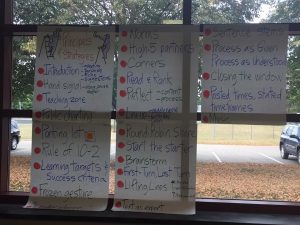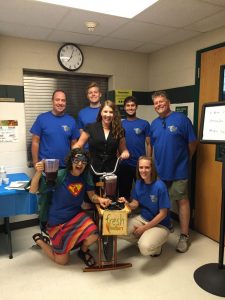 Written by Aaron Rogers, Dean of Students