If there is a most cherished piece of the Mind, Body, Spirit Initiative here at Allegan Alternative, it might very well be the diverse connections our school has made with members of the local community.  From partnerships with the American Red Cross and Wings of Hope Hospice, to International Aid and the United Way, students have been exposed to opportunities that truly make a positive impact on the world around them.
This spring, students welcomed a new addition to their list of life-changing partners as they joined forces with a supporting agency that has been rooted in Allegan for over 20 years:  Sylvia's Place.  
Sylvia's Place is Allegan County's only domestic violence safe house.  Founded in 1996 after the violent death of Sylvia Allen, Sylvia's Place offers shelter and support services to women and children seeking refuge from an abusive relationship.  Their mission is to empower those experiencing domestic violence through education and advocacy, ultimately strengthening individuals, families, and their communities (www.sylviasplace.com).
It seemed a no-brainer when Katie, their volunteer coordinator, reached out to inquire if our school would be interested in assisting Sylvia's Place with their spring cleaning.  There are few (if any) organizations in our community with a mission more deserving of some extra love.  The beauty of the partnership became even more apparent among the heartfelt, honest conversation shared by students as they learned of this opportunity:  
"I lived there."  
"Me too, with my mom when I was little."
"We just dropped off some stuff there last week."
"They saved me."
Woah, right?  For many of these students, a connection to Sylvia's Place had already deeply intertwined itself within their family roots.  For them, this partnership went beyond the classroom and entered into the realm of common struggle that many of our students face every day.  This real life connection helps students draw a parallel between time at school and at home, allowing for a deeper kind of engagement to emerge.  Putting time and energy into school becomes more meaningful as they openly and actively play a role in making the lives around them, and even their own, better.
So, when the bus pulled into the driveway, it was no surprise that students quickly disembarked in search of their own way to express a love for Sylvia's Place.  Groups competed to see who could organize and sanitize the quickest as they dug through piles of action figures, library books, and barbie dolls.  Some dove hands first into landscaping duties, spreading dirt and pulling weeds to give the home a feeling of spring.  Others chatted with residents and played games with their children, while a few found a quiet table on which to fold clean clothes and bedsheets.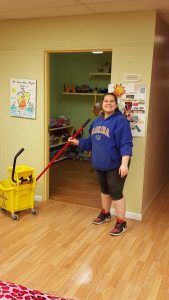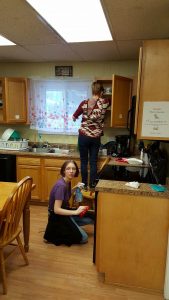 For a couple of hours, the home was full of wonderful conversation and a positive energy that rippled contagiously with the laughter and joy found in each room.  The sound of volunteering was empowering. 

Making these connections with members of our community is slowly becoming more commonplace for Allegan Alternative.  It is not rare for students and organizations to team up and dedicate their partnership towards making a difference.  What is rare, however, is finding an organization whose mission blends itself into the very lives of our students.  It takes us to a place where the community becomes our classroom.
Keep up with Sylvia's Place by following their newsletter:  http://mailchi.mp/8fcb86dd901d/april-newsletter?e=e349aa61d9
Written by Aaron Rogers, Dean of Students