One of the first decisions I remember making as a brand new Principal was volunteering for a young man named Tony to spend time in our building. Tony attends Hillside Learning and Behavior Center, and one of his educational goals is to sell his baked goods while interacting with other students. At a time when I questioned nearly every decision I made, this I somehow knew with certainty was a good idea.
Now granted, chocolatey, gooey baked goods plus hungry teenagers is kind of a no-brainer.
The wild card was bringing a stranger into the building. A stranger with limited mobility and ability to communicate. Would our students be able to relate to Tony? Would they be kind and respectful? Would they even buy his treats?
Four years and hundreds of brownies later, here is what I've learned:
When I check my planner in the morning and see the word "Tony" written in my chicken scratch, I feel my energy shift.  It's automatically going to be a good day. I enlist a couple students to help set up a table in the hall. "Does this mean it's a Tony day?" the student asks. "Sure does," I reply and remind them to hold on to their quarters.
Tony's wheels roll down our hallway and I can feel his smile before I see it. Tony's smile literally lights up our entire school. And because he smiles 99% of the time, I imagine our neighbors must wonder why our school glows during these lunchtime visits. I'm convinced it's impossible to be around Tony and not leave in a better mood than you started with. His positivity is therapeutic. His spirit is tangible.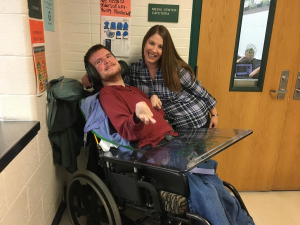 Tony is extremely expressive and communicates in a variety of ways. One word he says clear as day is "Mama." Hillside staff have told us for years about his incredible mom and the special bond they have. We got to meet this legendary "Mama" at this year's Thanksgiving Feast. Now we know where he gets his infectious smile.
Lesa has been Tony's teacher for many years and accompanies him on these visits. I'll admit that Tony has such a magnetic personality, it can be a challenge to stop paying attention to him long enough to talk to Lesa. When I learned that her husband is our school's police liaison, it made perfect sense as they both possess a heart of gold and have dedicated their lives to serving others. Tony graduates Hillside after next year. Lesa can barely speak about it without getting emotional. I can only imagine. I've seen Tony monthly during 25-minute lunch periods and I'm weeping while I write this.
While the selection of deliciousness may vary from week to week, what I witness time and time again never ceases to amaze me or impress Lesa.  Students buy a treat and proclaim, "Keep the change!" Students buy multiple treats and give some away to others without money. Teachers do the same. By the end of the lunch period his once teeming table is empty and sticky fingers abound. "You've done it again, Tony" I say. He smacks his lips in a kissing sound. "Yes, they love you Tony. We all do."
Once a month a school of students who are often underestimated and misunderstood spend a few moments with a young man who the same could be said for.
But with the clink of each quarter in the cup there lies a silent understanding, a recognition even, that in these halls we are loved for exactly who we are.
Written by Laura Feffer, Principal