Placed in the scope of our Mind, Body, Spirit Initiative, one might think that a bowling team would pretty much just reside inside the body aspect.  That is so not the case!  Each of the three components can be completely encapsulated within our 5 month season:
Mind

:  Bowling is a little like being a baseball pitcher or a golfer.  You can possess the physical tools, but the mental part of your game is just as important, as it can throw an athlete off their game quickly.  (One of the most utilized items in the Alternative coach's toolbox is the patience to guide an overexcited/angry/moody athlete to a clear mind.)

 
Body

:  Bowling is exercise!  Sure, 30 frames of throwing a 10+ pound ball is not running a marathon, but it is most definitely a workout.  
Spirit

:  Working as a team provides so many opportunities to build pride for both the school and the self.  It is awesome when students understand that there is more to life than what is going on just within themselves.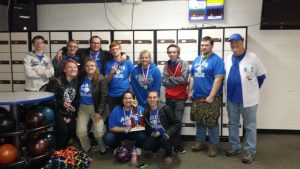 Now, even an Alternative High School our size can have it's little cliques, but these types of extracurricular opportunities help to break some of those illusionary barriers down.  Just look at the smiles in the picture!  Ok, Cody may not have as large of a smile – he split his jeans open in the first game.  First time one of our team members bowled in a camouflage loincloth!
As you look at the group of students, you might notice the positive energy.  One student pictured above had a very difficult time fitting in at the beginning of the school year.  By being a member of the team, the student began to ease into our family.  The positive acceptance with teammates gave him the confidence to open up and be accepted within the entire school.  A side note about the student:  he had only bowled previously on his Nintendo Wii, but ended up scoring around 120 on a regular basis.  The growth in confidence, both socially and physically, was such a fun process to watch.
As the season grew, so did the spirit of teamwork and sportsmanship.  The coaches stressed that while winning is nice, how students represented themselves in public was the real deal here.   It was much more important that organizers would want them back to an event because their behavior was exemplary than if they took home trophies.  Each athlete, by choosing to be a part of our school team, has assumed a leadership role and become an ambassador for our school every time they leave the building.  It makes a coach feel great to see the team high-fiving and giving encouraging comments not only to their team, but to the team next lane over.  Seeing a student from another school smile after a strike is great, even if they are trying to beat you!
The AAHS bowling experience allows for many different relationships to be developed.  It is sometimes very important for our students to see staff outside the normal realm of the classroom.  It builds more trust, not only staff to student, but student to student and school to community.  It provides students with glimpses into the lives of their educators, showing them sides of our personality that sometimes struggle to shine out in the classroom.  This type of connection is real, and students feel that.
I would like to mention our Assistant Coach, Karen Cochran, and how big of a gift she has been to our team.  She has been involved in the Allegan bowling community for years, and helped set practice times by making a deal with our local bowling alley to help our students with costs.  When we started this program in 2006, Sunset Lanes was not quite sure what to think of having an Alternative Bowling Team practice there.  Now, they put our successes on their Facebook page and cannot wait to see us!  Both Karen and Sunset Lanes have been a huge help to us, and we thank them very much!
While winning is certainly not at the top of our priority list, it sure does feel good.  Putting in more practice after school than ever before paid off when our ladies took 1st and our gentlemen took 2nd at the Alternative High School State Tournament.  This boosts team morale and school pride by building a sense of accomplishment that at-risk students too often do not get to experience.  The coaches would have been just as proud of this group and their unwavering sportsmanship at the tournaments even if they had no hardware to bring back.
Our Mind, Body, Spirit Initiative has had a major positive impact on our school community.  It has opened the door to so many new opportunities and modes of thinking.  Even deeper than that, it has breathed new life into the activities we have been doing for years.  It makes even our most cherished traditions feel more vibrant, more alive, for both our students and our community.
Written by Mark Horn, Science Teacher