Next week is "National Teacher Appreciation Week." Around the country, PTO's will bring baked goods into teachers' lounges, principals will leave little surprises in staff mailboxes, and Twitter will almost certainly see a flurry of #thankateacher hashtags.
Sadly, the other 51 weeks of the year are not always as kind. Despite teachers being expected to do more with less, play the role of teacher and social worker, and have their merit tied to test scores, they are often on the receiving end of society's frustrations. Nearly four in ten new teachers leave the profession within their first year.
At Allegan Alternative High School, our staff is small, but mighty – just like our school. They have found us and stayed with us because they believe in our mission of giving the students of this community "Another Choice" and "Another Chance" to earn their high school diploma.
Each and every day there are reasons big and small to be grateful for the five teachers, the five blessings, our students learn and grow with each day. And they deserve our thanks:
*Thank you for greeting every student each morning with a smile. Even before the caffeine has taken effect.
*Thank you for understanding that our school is a place of second chances, but sometimes we need to give third and fourth chances too.
*Thank you for overhearing that a student didn't have shoes that fit and bringing in a pair the next day.
*Thank you for your willingness to take risks and fail forward.
*Thank you for being so engaged in the conversation with your colleagues, you voluntarily stayed in the staff meeting an extra half hour.
*Thank you for being lifelong learners as you spend evenings, weekends, and summers working on improving your craft.
*Thank you for knowing you have gifts to share with other educators and finding outlets to share successes.
*Thank you for loving our students. Thank you. Thank you. Thank you.
As we look to the future of our program, there is no telling what it may look like down the road. We must continue to evolve and innovate in order to equip our Eagles with the tools they need to be successful once they leave our nest.
What is certain, however, is that there is no technology or training, no program or initiative that will ever take the place of a really great teacher.
So next week, perhaps you will think of a teacher you are grateful to have crossed paths with and find a way to express your appreciation.
I'll be smiling from afar as I watch ours open their  little surprises and bite into their brownies — knowing full well if you asked them, they would say the real gifts are in front of them each day.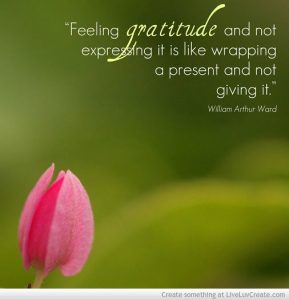 Written by Laura Feffer, Principal