When Allegan Alternative High School began their Mind, Body, Spirit Initiative, it was clear that community involvement would be instrumental in order to approach education in a more well-rounded, holistic manner.  Involving the passion, skills, and diversity of community members provides students with opportunities to both expand their scope of learning outside of the classroom, and to reveal the true depth of student potential.
Previously established partnerships with the American Red Cross and the City of Allegan gave students a launching point as they increased their student-led blood drives to three per school year, and planted flowers at Rossman Park after giving it a thorough spring cleaning.  Students then shifted their focus to Allegan's Community Garden, where the Community Relations class partnered with Kelsie King to ready it for the season.  Together, they dedicated an entire week towards preparing the garden, painting its surrounding fence, and planting fruits, vegetables, and herbs that are free to locals who stop by during the summer.
After a piece in the Allegan County News, the influx of community members excited to work with Allegan Alternative's students began to rise, and the opportunities quickly blossomed.  Louie Morand brought his enthusiastic passion for music to a group of our students, using lyric expression, music creation, and peer collaboration as therapeutic tools to build socioemotional skills.  Arlene Barber led students in a Cookies and Canvas, reuniting them both with the calmness that comes with painting and the spunky attitude that flows within the arts.  Even Millgrove Brewing Company found a partnership with AAHS, letting students name their newly released homemade root beer (Allegan Roots) and hosting an end-of-the-school-year root beer float party for students passing all of their classes.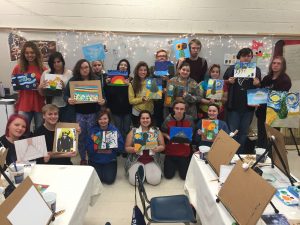 As their initiative progressed, relationships continued to expand as students partnered with Wings of Hope Hospice to help rake leaves at their Wings Home and level sand for new landscaping around their offices.  In October, the Regent Theatre, KD Lake, and Modern Woodmen joined forces with AAHS to host the school's first large fundraiser, showing Willy Wonka and the Chocolate Factory on screen while students sold chocolate bars for a chance at a golden ticket prize.  This event alone raised over $6,000 to be used to continue the Mind, Body, Spirit Initiative, giving future students experiences and opportunities to grow as individuals of their community.  Students showed their gratitude in the following month at their annual Thanksgiving Feast, open to community members, the police department, local administrators, parents and others who have helped shine such a positive light on their accomplishments.  One of our biggest fans, Chief Hoyer, even stopped in for some homemade, student-served food.
The beauty in creating these relationships is that by uniting these various community pieces, it becomes strengthened as a whole.  The students of Allegan Alternative are weaving themselves into their community as positive, contributing members who not only see our city's potential, but are becoming our city's potential.  They are so proud to promote the beauty of Allegan, and it is wonderful to see Allegan be proud to promote them.
Thank you, Allegan Chamber of Commerce, for awarding our students with the 2017 "Spirit of Allegan" Award.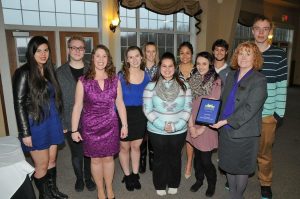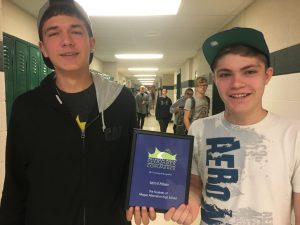 Written by Aaron Rogers, Dean of Students